Industry Sustainability Outlook
The average ESG score for the solar energy generation industry is between 55% and 65%. Our proprietary ESG scoring framework analyzed 65 parameters across the environment, social, and corporate governance, as represented in the methodology section of this document.
E.ON SE, Exelon Corporation, and five other market leaders were part of our research. Four of the market leaders ranked above average industry scores. However, one company needs to focus more on ESG reporting and transparency, as it scored well below the industry average. The majority of sustainability-related disclosures are centered on governance metrics, followed by environmental and social disclosures. E.ON SE leads the sector in terms of ESG disclosure, followed by Exelon Corporation and Equinor ASA.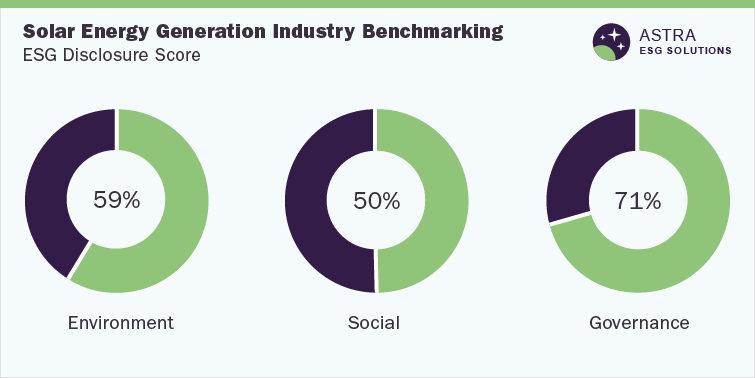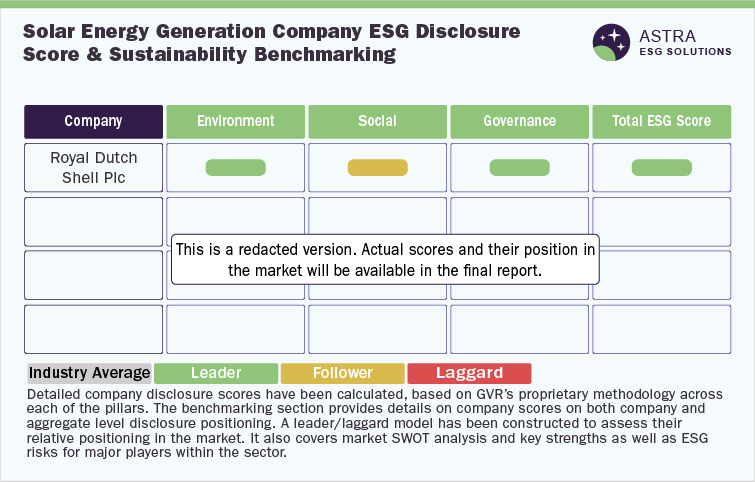 Environmental Assessment
Solar energy is one of the most impactful renewable energy sources that have significant potential in driving the energy transition. For example, solar panels can be used to generate clean power at home and reduce the cost of electricity in the long term. Solar panels are also a boon to the environment, as they reduce pollution. A well-built solar system within the premises can also help charge electric cars. Greater use of solar energy can, therefore, lower the need for nonrenewable fossil fuel sources, such as coal, natural gas, and so on. The use of solar power will have an immediate, measurable impact on the environment and provide a good Return on Investment (ROI).
Solar energy generation companies work on similar goals that strive to reduce their GHG emissions. This contributes to addressing climate change around the ecosystem. In line with these efforts, all the leading companies have disclosed their scope 1 and scope 2 emissions. In addition, companies have set appropriate goals to avoid increasing emissions. The Exelon Corporation ranks first among the top five companies that have avoided around 78 million tons of GHG emissions through the use of zero-carbon nuclear power. This reflects the company's commitment to mitigating its carbon emissions. Another critical environmental aspect—water management—has been ignored by one of the solar energy market leaders, Equinor ASA, which does not have any water reduction initiatives in place. However, the majority of the solar energy generation market leaders have implemented robust water management programs. For example, Exelon Corporation has introduced new cooling technologies and thermal monitoring systems. The majority of the companies have scored well around waste management except for Duke Energy Corporation. Furthermore, the companies are also aligned with the TCFD standards.
Provided below is a comparison of the top three companies under environmental benchmarking, with regard to their emission metrics:
Overseeing the climate risk strategy is an imperative aspect that needs to be institutionalized. The climate strategy of Exelon Corporation is overseen by a Senior Vice President of Corporate Strategy and Chief Innovation and Sustainability Officer, while Equinor ASA's strategy is overseen by the Safety, Sustainability, and Ethics Committee (SSEC) of its board of directors. Furthermore, E.ON SE is one of the top three companies in the environmental sector, with 86% of sites certified according to ISO 14001.
Social Assessment
Solar energy generation companies have emphasized various social aspects such as turnover rate, health & safety, diversity, enterprise & employee/customer communications through surveys, and human rights alignment. These areas are essentially the foundation of a company's social pillar. Our research found that ESG disclosure around social pillars has not been significant, and it has scope for improvement. With respect to social disclosure, E.ON SE leads the way, followed by Duke Energy Corporation and Exelon Corporation.
Among the top three companies, E. ON SE had the lowest turnover rate, which indicates the company has managed its human capital well with high employee satisfaction. All top three companies emphasized safety metrics, which is evident from the health and safety measures that are institutionalized within their operations. In addition to the safety measures, the majority of the companies within the sector also provide employees additional health benefits, including mental health support, programs that support emotional & social health, life coaching, and many other benefits. It was noticed that only one company had 87% of its business units certified to ISO 45001 while the other two did not have safety certifications.
Provided below is a comparison of the top three companies under the social benchmarking with regard to employee turnover rate:
Our assessment showed that all major companies within the sector have conducted comprehensive employee and customer satisfaction surveys. Surveys like these provide organizations with insights into areas that need improvement. The companies have ingrained proper human rights practices within their operations along with the supply chain, and their code of conduct is aligned with global human rights standards.
Governance Assessment
According to our research, the average industry governance score is 71%, which is the highest among all the ESG pillars. The governance pillar included information on female board members, independent directors, compensation linked to ESG parameters, and clawback policy, among others. The industry leaders scored well above 75% in the corporate governance pillar, with Exelon Corporation scoring the highest, followed by E.ON SE and Duke Energy Corporation.
The corporate governance structure becomes robust with more independent representation on the board. Our research showed that 100% of E.ON SE's directors were Independent directors, while Exelon Corporation had the lowest percentage of independent directors. An inclusive board structure demonstrates the company's commitment to diversity as well. Exelon Corporation had the highest percentage of females on its board at 33.33% followed by the others.
Provided below is a comparison of the top three companies under the governance benchmarking with regard to female representation on board: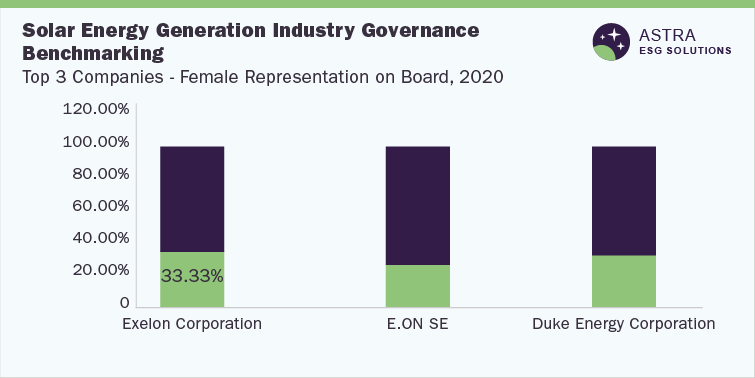 The major players within the solar energy generation industry have implemented the required cybersecurity measures that enhance their credibility. Furthermore, it is imperative for companies to have a Business Continuity Plan (BCP) in case of an emergency or pandemic. Among the top three companies, only one company disclosed a BCP while the other peer companies had no disclosure for the same.
Country ESG Outlook
The increased popularity of solar energy is quite evident from the rising number of solar energy producers across countries. The top solar power nations, such as China, are heavily reliant on clean energy with their 2030 net-zero target. The increase in clean energy investment has led to new economic and employment opportunities. Incentive policies for solar projects were introduced in the year 2020 across various countries. Few countries have also introduced incentive plans and have defined policies for solar power, which is explained in detail within the report. Furthermore, a couple of major acquisitions have taken place in this space in the recent past. Sembcorp Industries Ltd, a Singaporean company, acquired a 98% stake in GCN Capital Partners Infrastructure Fund III and its subsidiary for RMB 3.3 billion (USD 505,560,000). Another acquisition happened in India, where Reliance Industries acquired REC Solar Holdings from China National Bluestar (Group) for USD771 million, as it seeks to achieve net carbon zero by 2035. In addition, our analysis revealed that the top solar power countries filed more than 16,000 patents between 2010 and 2019.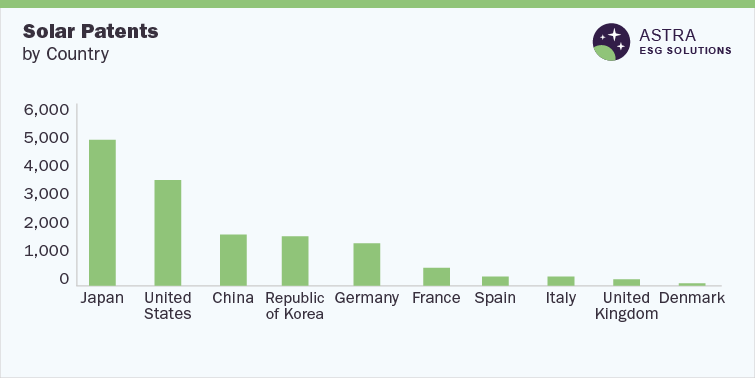 Solar Energy Generation Market Overview
According to our research, the solar power market was valued at USD 170.55 billion in 2020. In 2020, the market grew by an average of 4.18% compared to the average growth during the period 2017 to 2019. The market, however, is currently projected to grow by 6.9% from USD184.03 billion in 2021 to USD293.18 billion in 2028. Earlier, the global concentrated solar power market size was valued at USD 4.5 billion in 2019 and is expected to grow at a Compound Annual Growth Rate (CAGR) of 9.7% from 2020 to 2027. Growing concerns over carbon emissions and efforts to reduce air pollution are leading to market growth. Strong government policies to limit the growth of carbon footprint are projected to boost market growth, along with monetary incentives to encourage the use of alternative sources of energy. In the coming decades, the solar industry is expected to establish clear roadmaps for cost reduction, which should result in halving solar costs by 2030. Since clean energy and sustainability are important aspects of measuring the performance of a company or attracting investors, companies in the solar energy sector are all aligning their practices with these environmental sustainability parameters as a way of having the greatest impact on the environment.