Environment, Social and Governance (ESG) at Fujitsu Limited
Fujitsu Limited is a Japanese multinational information and communications technology equipment and services corporation, established in 1935. It is the world's sixth-largest IT services provider by annual revenue.
The company has been focusing on sustainability due to effective due diligence and a better investment decision for the company as well as relevant stakeholders and closely aligned with the United Nations' Sustainable Development Goals (UN SDGs). The Fujitsu Group promotes its Sustainability activities based on the Fujitsu Way. To strive for global effectiveness, the company has reviewed material issues across the Group based on materiality analysis and has established a framework called "Global Responsible Business". This has been classified by the following seven issues, human rights and DE&I, well-being, environment, compliance, supply chain, occupational health and safety, and community.
ESG Trends
Fujitsu Limited aims to enrich and continuously improve positive health culture where its employees can work to their full potential, both in mind and body. The company values the importance of its people and will strive to enable them to succeed in their own personal development and growth. The "FUJITSU Climate and Energy Vision" is a Medium- to Long-Term Environmental Vision for 2050 which clarifies the role we will play in tackling global climate change as well as the future outcomes we hope to realize.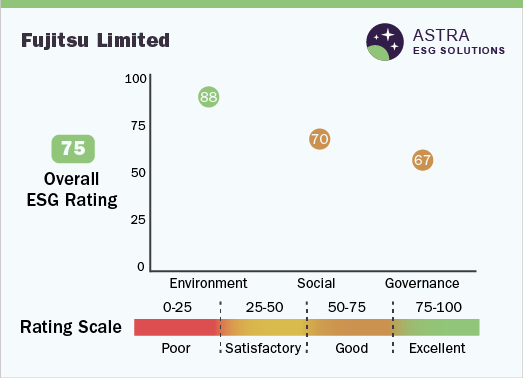 Fujitsu Limited will work to achieve zero carbon emissions from its own operations by 2050 and contribute to climate change adaptation as well as a de-carbonized society through technologies supporting digital transformation. In terms of occupational health and safety, Fujitsu Limited aims to maintain a safe and comfortable working environment and promote employees' mental and physical health in every workplace. The company achieved zero occurrences of serious accidents in 2021 and is implementing health and safety-related management reviews at the global level which are conducted once a year to improve safety.
Future of ESG at Fujitsu Limited
In 2021, Fujistu Limited generated a revenue of USD 27 billion. The company envisions various aspects including sustainability as one of the main agendas, with promising innovation and product development side supporting sustainability, the company has a favorable future ahead.