Environment, Social and Governance (ESG) at Mercedes-Benz Group AG
The policies that impact environment, social, and governance, which are made by the companies, involving the consumers and the governments, are shaping the current trend in investments in an unprecedented manner.
Being one of the key leaders of the automotive industry, Mercedes-Benz GroupAG, over time has built itself around the aspects of Environment, Social and Governance, focusing on the three for a decade and promoting an eco-friendly way of logistics and transportation and community-inclusive methods of operations. In regard to this, Mercedes-Benz GroupAG had made policies that define its core ethical values of governance, striving to make a positive impact in all three areas of ESG.
Depletion of natural resources as well as the advancement of technology in the automotive industry, has led Mercedes-Benz GroupAG to adapt to sustainable technologies and policies.
ESG Trends
Mercedes-Benz Group AG has made a SpurWechsel, which literally means "lane change". The internal governance policies are aligned with the United Nations Sustainable Development Goals and have aimed at reducing carbon emissions by 2050. At the core, Mercedes-Benz Group AG has a sustainable corporate governance policy, which is inclusive of human rights policies, data protection, product safety and business ethics, and corporate governance.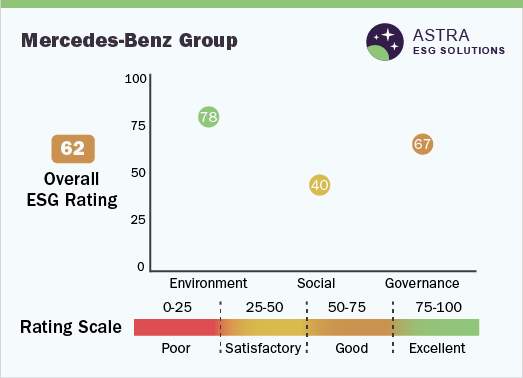 To enable this goal, Mercedes-Benz GroupAG has made changes in its production operations to reduce climate change, where it has set a goal of making all of its products with net zero emissions by 2039, by introducing a new line of EV product range by 2035. The methods used to reduce the Scope 1, Scope 2, and Scope 3 emissions are aligned with science-based targets and made an Environmental policy to enable the aforementioned targets to happen.
In 2021, Mercedes-Benz Group AG has made resources conservation policy, where Mercedes-Benz GroupAG has aimed to reduce the energy consumption per vehicle by 43% for cars, and 25% for Vans by 2030, reduce the water consumption per vehicle by 33% for cars and 28% for vans, and reduce the waste disposal by 82% for car and85% for vans by 2030. The ambition letter, which is signed by the suppliers of the Mercedes-Benz Group AG, where they are required to supply co2 neutral materials in the future.
Mercedes-Benz GroupAG to endure its environmental policy has introduced a circular economy, reducing the dependence on natural minerals for its production purposes. Further Mercedes-Benz Group has made supply chain policies where it has used blockchain technology to enable the purchaser to track data regarding the materials which may further help in promoting data protection.
In regard to the social and governance aspects of ESG, the Mercedes-Benz GroupAG has made many initiatives, some of which include a focus on the promotion and integration of human rights, climate, and environmental standards, aligning themselves with the United Nations' Sustainable Development Goals.
Future of ESG at Mercedes-Benz AG Group:
In 2021, Mercedes Benz AG generated USD 149 billion in revenue. The Mercedes-Benz GroupAG has made initiatives and policies that create a positive impact on the environment and society in parallel and these policies reflect the core values of the Mercedes-Benz Group AG, which aim at reducing the carbon footprint and emissions as well as promoting sustainability in terms of human rights.