Environmental, Social, And Governance (ESG) In The Dietary Supplements Industry
A whole, new era of sustainability is driven by forces of change - governments, corporations, and consumers, to make Environmental, Social, and Governance (ESG) initiatives more aggressive and ubiquitous. However, the world grapples with a nutritional crisis, where a suboptimal diet is the main reason for poor health, social inequity, and negative economic impacts. Thus, promoting well-being at all ages and for everyone is essential, and one of the key UN Sustainable Development Goals (SDGs).
According to global research by the United Nations (UN), the untimely death of 45% of children under 5-years of age is due to factors related to malnutrition that cause common childhood illness such as malaria, diarrhea, and pneumonia. Additionally, while corporations and governments look to change the retail landscape by influencing sustainable production practices, consumers are on the lookout for options that are healthier for them.
Recent ESG Developments
Product responsibility is a key area for dietary supplement manufacturers to address, as they can make sincere claims about their products' sustainability using sustainable ingredients while manufacturing. A recent study by the Harvard Business Review finds that the goods marketed with the claim 'sustainability' fueled the sales of Consumer-Packaged Goods (CPG) by 50%. Positively, in 2018, 16.6% of the market share of CPG came from goods claiming 'sustainable' on their package. Thus, firms operating in the dietary supplements industry have a significant influence on selling and marketing practices. Showcasing responsibility in terms of labeling, marketing, and selling is an important social indicator that shows their interest towards product responsibility.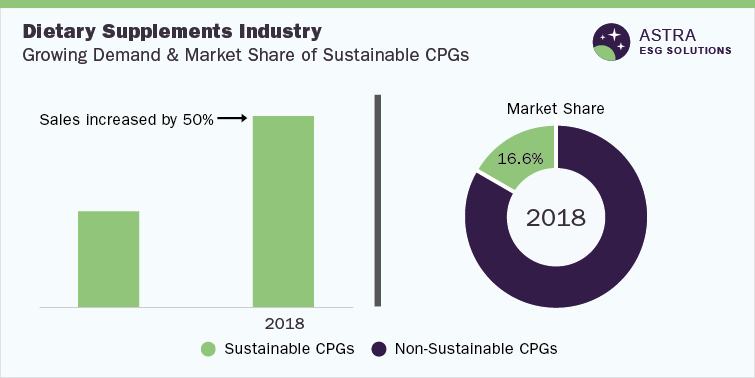 Research from Mintel's New Product Database shows that 370 environmentally friendly supplemental products were launched in 2015, globally. Compared to 2014, there was a 37% increase in the launch of such sustainable supplemental products, suggesting the dietary supplement market to have a significant potential to expand globally.
In a 2018 survey conducted by Nielsen, 73% of consumers were found to be definite or most likely to adopt consumption habits that reduce their impact on the environment. This increased interest from employees, investors, and other stakeholders within the dietary supplement industry has prompted small, and medium-sized enterprises (SMEs) in the dietary supplement sector to identify investment options into these in ESG platforms.
ESG Challenges
Suboptimal nutrition is associated with significant risks to the reputation, fiscal performance, and viability of a business, specifically the dietary supplement market. In this case, there are regulatory risks for a business while trying to address nutritional gaps including procurement policies, front-of-package labels, restrictions on marketing, and warning labels.
Poor nutrition is associated with chronic diseases, leading to lost time work, decrease in productivity, and an increase in healthcare costs, leading to health and safety implications. In this light, specific to the dietary supplement market, developing and marketing nutrition and food is key for top companies involved in this sector, as it creates both long-term value and long-term risks for all the stakeholders involved.
Growth Of The Dietary Supplements Market In India
The global dietary supplements market size was valued at USD 151.9 billion in 2021 and is expected to expand at a compound annual growth rate (CAGR) of 8.9% from 2022 to 2030. In India, the dietary supplements market size was Rupees 331 billion (~USD 4.17 billion) as of 2021. The Food Safety and Standards Authority of India (FSSAI) regulates the nutrient quantity in dietary supplements in accordance with the Recommended Daily Allowance (RDA) and where it doesn't apply, the Codex (the international food standards body) levels regulate the RDA.
'Green' or 'sustainable' supplements are outperforming sales of common food products including beverages. And with significant opportunities for dietary supplement manufacturers to showcase their commitment to sustainability, eco-friendly, green products can capture a huge global market in a matter of time.
Key companies in this theme
• Amway Corp
• Glanbia PLC
• Abbott
• Bayer AG
• Pfizer Inc.
• ADM
• Nu Skin Enterprises Inc.
• GlaxoSmithKline PLC
• Bionov
Scope Of The Dietary Supplements Industry ESG Thematic Report:
• Macro-economic and ESG-variable analysis of the industry, including regulatory, policy, and innovation landscape
• Key insights on infrastructure developments and ESG issues affecting the theme
• Identify key initiatives and challenges within the industry
• Identify ESG leaders within the industry
• Understand key initiatives and the impact of companies within the sector to fuel an informed decision-making process
• Analysis of industry activities based on multi-media sources, including significant controversies and market sentiment
Key Benefits of the Dietary Supplements Industry ESG Thematic Report:
• Developing a comprehensive understanding of macro-economic, Policies & Regulations and innovations affecting the market, globally
• Key insights into environmental developments and ESG issues affecting the theme
• Identifying ESG risks and opportunities to business among leading players in the dietary supplements market
• Obtaining a clear and relevant understanding of company actions, progress, and impact and find opportunities for investment into the sector