Research methodology
Grand View Research (GVR) employs a holistic and robust research methodology focused on delivering precision. Our ESG key issues are selected following a thorough materiality analysis run by our taxonomy committee. We examine leading business journals relevant to the industry sector and where applicable references are made to a range of sources including regulatory agencies, trade associations, company filings, white papers, and analyst reports during the due diligence on data aggregation. In addition, a recurring theme that remains central to all our research reports remains data triangulation which aims to dive into the market from thematic context, regulation, and industry benchmarking, including SWOT analysis.
Eligibility Criteria and Company Selection
Each public company is curated by our senior researchers following a comprehensive study of their business involvement around a specific theme. The involvement extends to subsidiaries based on at least 50% holding by the parent company. Following this, we analyze fundamental financial indicators, including revenue and market capitalization to ensure a diverse set of companies that fairly represent the sector are included. Additionally, GVR researchers ensure the disclosure level of each company across the material ESG key issues.
Scoring Methodology
Each ESG metric is assigned a specific weight based on its relevance across sectors. Below are the aggregated weights across pillars, which are derived from each metric.
| | | |
| --- | --- | --- |
| Environment | Social | Governance |
| 40% | 30% | 30% |
GVR's proprietary ESG score is calculated using a weighted average method at:
• Key issues level
• Pillar level
• Company level and,
• Theme level
Data Mining
Data is obtained and collated from diverse source points. The data collected is continuously cleansed to ensure that only validated and verifiable sources are analyzed. In addition, data is also mined from a large number of in-house syndicated research reports inventory as well as through paid databases and premium content. During this research report, we conducted multiple primary interviews across the globe supported by our Primary Research Panels through the delivery of a mix of paid and unpaid interviews. We also send and receive responses from a wide section of industry participants through a carefully crafted and comprehensive survey questionnaire. We triangulate these data into quant models and generate qualitative insights. Evolving industry dynamics that shape drivers, restraints, and pricing are also gathered. As a result, the published content includes proprietary data and meaningful insights.
Fundamental ESG data:
GVR's ESG taxonomy committee maintains the framework and ensures it is updated quarterly considering market updates and relevance. Framework includes 65+ fundamental ESG metrics that are identified following a thorough materiality assessment. Below is GVR's ESG Level-I framework: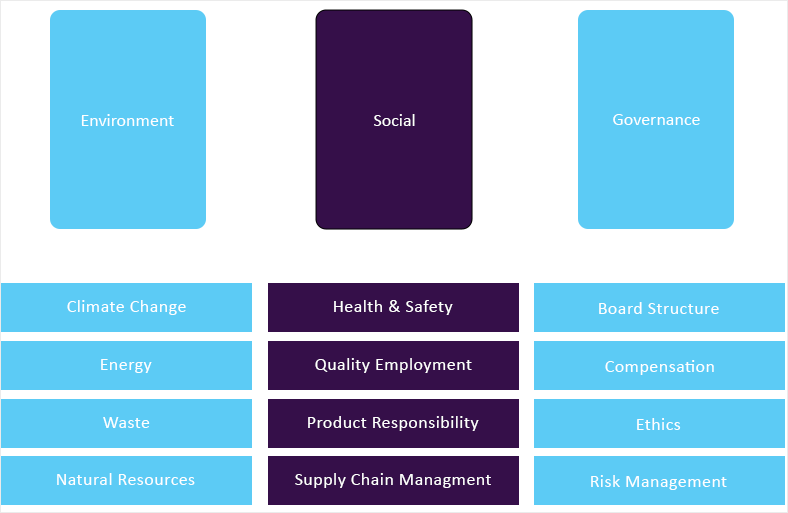 Alternative ESG data:
GVR also analyzes macro-economic factors that impact or drive the growth of respective sectors. This includes
• Deep dive analysis of policy and regulatory landscape that has potential towards shaping the future of businesses
• Innovation quotient of a sector to gauge prospective evolution of a theme and related opportunities
• Investment scenario, including mergers & acquisition, funding and other deals to assess the investment appetite for a particular theme
• Other market activities, including market size, growth forecasts among others.
Information sources