Industry Sustainability Outlook
The average ESG disclosure score for the lubricant market is between 55% and 65%. Our proprietary Environment, Social, and Corporate Governance (ESG) scoring framework analyzed 65 parameters across ESG, as represented in the methodology section of this document. Royal Dutch Shell, British Petroleum (BP), Chevron, and 11 more market leaders were part of our research. Three out of five companies we researched scored above the average industry score. However, four market leaders need to focus more on ESG reporting and transparency as they scored well below 50%.
From an ESG reporting and disclosure standpoint, the majority of the companies within the sector have significant scope for improvement. However, we have seen a positive trend in ESG disclosure among lubricant market players in the past 5 years. Our research shows that the majority of sustainability-related disclosures have been made around environmental metrics, which stand above 70%, followed by governance and social, respectively. Royal Dutch Shell Plc has been a leader in the sector from an ESG disclosure standpoint followed by BP Plc. and Petrobras, among others.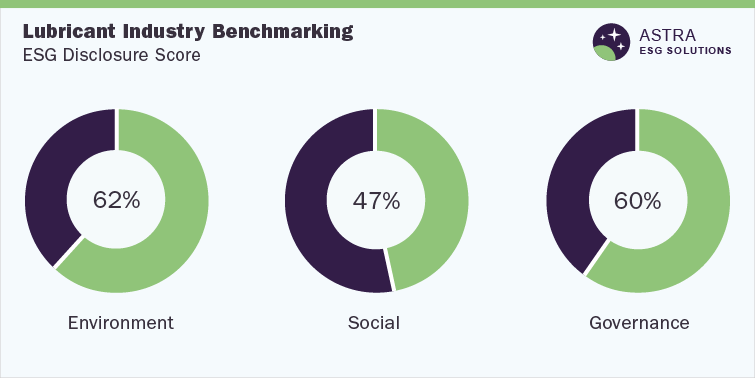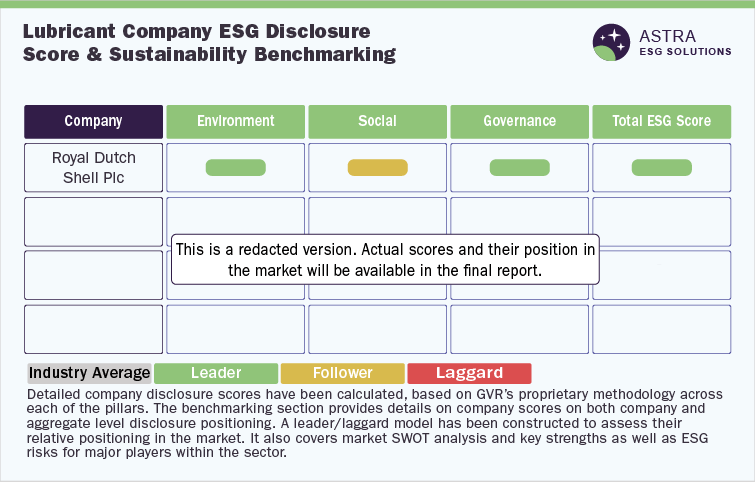 Environmental Assessment
Lubricant comprises less than 10% additives and 90% base oil (like petroleum fractions, called mineral oils). In rotating machinery, lubrication is crucial for efficiency and durability. Lubrication reduces friction between machine parts and enables them to move smoothly in a given direction. There is a negative impact of lubricant on the environment, as it causes serious contamination of soils and groundwater, as well as accumulates in plants and animal tissues. There are various measures or technologies used by companies globally for the sustainability of lubricants. One of the main alternatives to petroleum-based lubricants is bio-based lubricants, which can help reduce environmental impact and create green companies. Biolubricants are plant-based and are also called bio-lubes. The key advantages of biolubricants are rapid biodegradability, low toxicity pertaining to the environment, environmental friendliness, good lubrication properties, high viscosity index, longer equipment life, contribution to improved water quality, reduction of greenhouse gases, increase in economic security, and reduction in oil dependence. Players within the lubricant industry value chain are focusing on innovation and reinforcing their presence across the globe by institutionalizing more environmentally friendly operations & defining relevant targets to monitor their progress. For instance, BP is focused on reducing scope 1 and scope 2 emissions globally by 30% by 2030. A large part of the organization has coordinated its business activities across the supply chain to reap significant benefits of the eco-accommodating methodology, by either altering its water management practices through water recycling or by waste management programs through the 3R (Reduce, Reuse, Recycle) policy or through circular economy.
Provided below is a comparison of the top three companies under the environmental benchmarking with regard to their scope 1 and 2 emissions along with emission intensity
One of the major players in the lubricant market, Royal Dutch Shell, has ensured that the overall sustainability performance is under the supervision of its CEO and the Executive Committee, who is also assisted by the company's Executive Vice President for Safety and Environment. The company also evaluates its water risk through World Resources Institute's Aqueduct Water Risk Atlas tool, while another major player in the industry—Idemitsu Kosan—ensured a significant reduction of emissions and energy consumption compared to the past year when compared to its peers. The ISO 14001 certification also plays a significant role in ensuring proper environmental processes/systems across organizations. Our research revealed that all major operating sites of BP have ISO 14001 certification, while Idemitsu Kosan has only 34 sites that are certified.
Social Assessment
Broadly, social metrics represent an assessment of risks that a company might experience from human capital and community, both. The parameters that are considered in this category include not only the employee turnover rate but also health & safety parameters, including injury rates, OHSAS certifications, employee engagement programs, training, and community development, among others. Among the companies within the sector, Idemitsu Kosan ranks highest on the social pillar, with a score of around 70%. The company has institutionalized robust human rights monitoring mechanisms not only within its own operations but also across the operations of its entire supply chain. Most of the companies have conducted customer satisfaction surveys but few have not disclosed the quantitative results, which is certainly an area of improvement.
Provided below is the comparison of the top three companies under social benchmarking with regard to employee turnover rate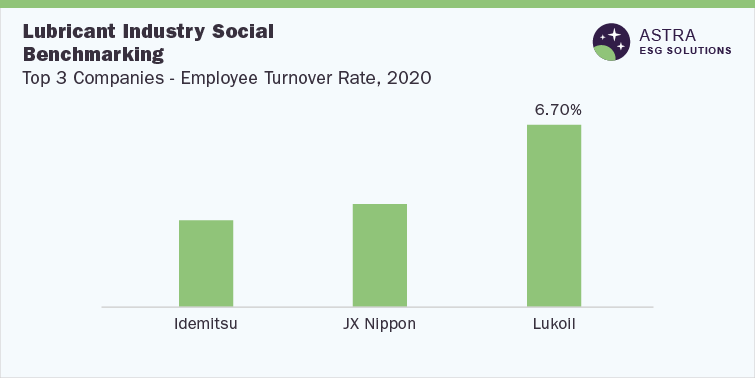 Moreover, our research showed that the majority of the companies in this sector have introduced comprehensive healthcare plans and programs, including mental health. Most of the companies are also certified in compliance with ISO 45001 standards. Our research highlighted that such healthcare benefits along with health insurance and H&S training boost employee retention rates. However, Lukoil is an exception, which has one of the highest employee turnover rates (6.70%) despite having comprehensive healthcare plans for employees. Furthermore, JX Nippon offers cancer screening and works to prevent infectious diseases along with providing medical support.
Governance Assessment
The governance aspect within the purview of ESG assessment is one of the most important foundation stones of a company, which includes various metrics, including business ethics, board structure, financial transparency, anti-corruption, and insider trading, among others. As per Grand View Research's ESG scoring model, Chevron ranks the highest in corporate governance among its peers operating within the lubricants sector. The company has the highest number of independent directors (over 90% of the board comprises independent directors), which enhances corporate credibility and governance standards in the eyes of investors and consumers. Chevron has also institutionalized one of the best-in-class ethics platforms that manage any form of misconduct within the company. The Chevron Hotline operates 24 hours a day, 7 days a week.
Provided below is a comparison of the top three companies under the governance benchmarking with regard to female representation on the board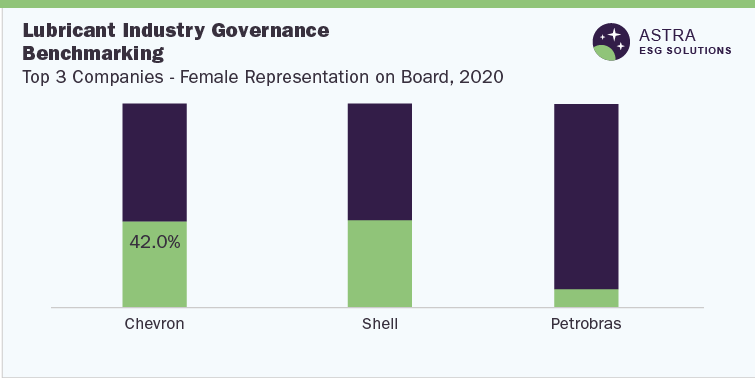 Even Royal Dutch Shell is giving a tough competition to Chevron and ranks second with a score of over 80% in corporate governance. The company has the highest percentage of female members on its board, which portrays a positive diversity and inclusion practice at the highest level within the organization compared to its peers. Furthermore, it has also institutionalized a robust business continuity plan that includes deep cleaning programs, health screening, and social distancing in vehicles & common areas. In addition, the increase in the risk of cyberattacks at the corporate level has threatened various market players to strengthen their cybersecurity programs. Hence, we have seen the formation of the Cyber Defence Team in Royal Dutch Shell, while Petrobras created the Center for Excellence in Treatment and Response to Security Events.
Country ESG Outlook
Despite the harmful effects of lubricant oil spills & burning and their contribution to global warming, they play an important role in energy savings and help lower CO2 emissions through fuel efficiency and extending the life of machinery. This can be attributed to the fact that lubricants reduce friction between surfaces, which ultimately limits the amount of heat generated when they move. As lubricants consist of almost 90% base oil and less than 10% additives. Countries around the world have specific legislation around the use of lubricants, petroleum, or oil. Environmentally Acceptable Lubricants (EAL) are mandatory in the U.S. since 2013 and must be used on equipment with oil-to-sea interfaces. The Ministry of Petroleum and Natural Gas (MoPNG) in India looks after the hydrocarbon exploration business that falls under the Government of India (Allocation of Business) Rules 1961.
Distribution of the number of patent documents on enhanced oil recovery methods for the period 2010-2020
We have seen over 1,500 patents being filed and granted through an investigation of worldwide patterns in patents for the increment of oil recovery. Countries that are driving these patents are Russia, China, and the U.S. followed by Canada, Germany, & Saudi Arabia.
Lubricants Market overview
The lubricants market size at a global level was valued at USD 125.81 billion in 2020 and is expected to grow at a Compound Annual Growth Rate (CAGR) of 3.7% from 2021 to 2028. Bio-based lubricants will play a pivotal role in boosting demand over the next decade. Automotive will contribute the most to the revenue, accounting for over 50% of the market share. Rapid urbanization & industrialization in Asian countries resulted in this region holding the largest revenue share of over 40% in 2021. Global demand for the lubricant market is on the rise, with a projection of around 37.2 million metric tons of demand by the end of 2023. Lubricant demand has been consistently increasing over the past decade. In addition, we have seen a significant increase in demand for sustainability as a performance metric among investors, and our research showed that the majority of the companies in this sector have been reporting about their ESG-related policies, programs, targets, and plans to enhance reporting transparency.
Global demand for lubricants from 2000 to 2020 with a forecast for 2023