Industry Sustainability Outlook
The average ESG disclosure score for the solar inverter industry is between 60% and 70%. Our proprietary ESG scoring framework analyzed 65 parameters across the environment, social, and corporate governance, as represented in the methodology section of this document.
Siemens AG, Eaton Corporation, Delta Electronics, and three more market leaders were part of our research. Only half of the six companies we researched scored above the average industry score. However, the bottom-ranked among market leaders need to focus more on ESG reporting and transparency, as they scored very poorly on multiple aspects.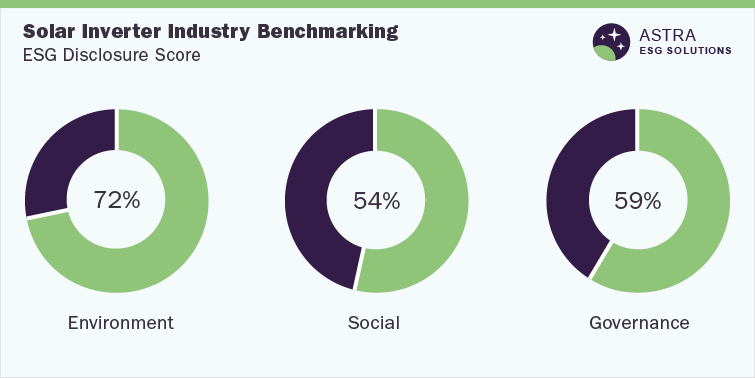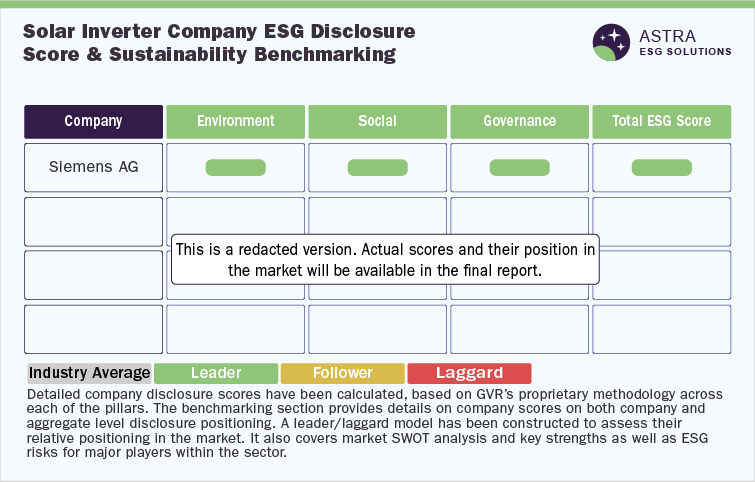 Environmental Assessment
The majority of the energy market is still held by conventional sources like natural gas, oil, coal, or nuclear. However, with growing energy demand, the world is increasingly adopting renewable energy sources that are sustainable. PV inverter plays the crucial role of inverting the current collected by the solar panels (Direct Current [DC]) to the energy that can be used inside our homes (AC). Hence, it is an inevitable part of the solar power generation system. Although pollution during the operational lifecycle of a photovoltaic system is minimal, the environmental impacts during manufacturing and disposal cannot be ignored.
The major players in the photovoltaic inverter industry have revised their environmental commitments and improved transparency. This is evident from their efforts to reduce carbon emissions, promoting ISO 14001 certifications and TCFD mechanisms. There are new programs being implemented by these companies to achieve their emissions targets, increase water efficiency, and reduce waste. Some of these companies have committees exclusively to monitor how the company is performing on the sustainability front. In Delta Electronics Inc, the ESG committee is chaired by Chief Sustainability Officer. In OMRON Corporation, the sustainability committee is overseen by the Board of Directors. At Eaton Corporation Plc, the sustainability executive council comprises Chairman and Chief Operating Officer. Among companies within the sector, Delta, OMRON, and Eaton rank highest on environmental parameters with a score above 80%.
The below graph compares the top three companies on the basis of their scope 1 &2 emissions. A year-on-year comparison has been provided in the detailed report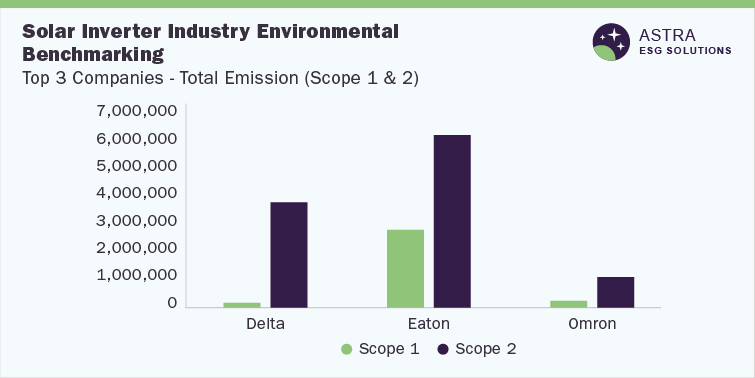 Eaton has targeted a 50% reduction in its carbon emission by 2050, and it has already achieved 1/3rd of its target. Delta has started research and analysis on reducing carbon emissions, and it aims to reduce them by more than 50% from 2014 emission levels. Since the majority of its carbon emission comes from electricity production, it is aggressively shifting toward renewable energy. OMRON aims to reduce its emissions by more than 30% by 2050 and has set up the OMRON Carbon Zero project.
Social Assessment
Social metrics assess risks that a firm may face from both human capital and the community. The parameters used for assessment include, but are not limited to, turnover rate, injury rate, employee engagement programs, training & development, health & safety certifications, and community development. On the basis of the above parameters, companies have been ranked, and Delta Electronics secured the top rank in overall social performance with a score of little less than 80%, followed by Siemens AG and ABB.
The below graph compares injury rates in the top three companies; further details have been provided in the full report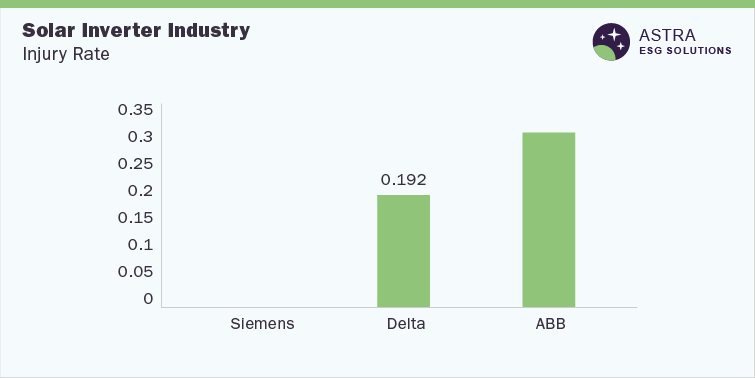 Delta has focused more on employee safety and implemented health & safety management in all its facilities. The turnover rate has significantly decreased over the years, which is a positive sign. Siemens received the Forbes World's Best Employers 2020 award. More than a quarter of its workforce are women. The online anonymous feedback by employees is taken into account to improve the work culture at Siemens. ABB contributed almost USD 2.2 million for philanthropic work across the globe. It also aims to improve women's representation in senior management.
The below graph compares turnover rates in the top three companies; further details have been provided in the full report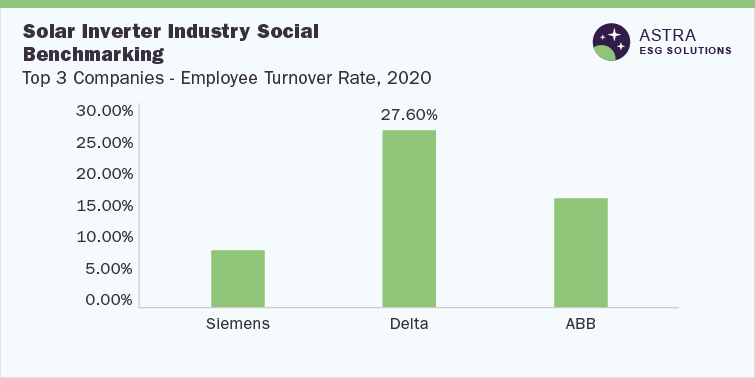 Governance Assessment
One of the most significant foundation stones of a firm is its governance, which encompasses a variety of criteria such as corporate ethics, board structure, financial transparency, and anti-corruption, among others. After the assessment of governance among major companies in the solar inverter industry, Siemens fetched the top rank with an above 90% score. Other top performers were Eaton Corporation and Emerson Electric. The Siemens Integrity Initiative, which combats corruption and fraud via collective action, education, & training, adheres to the highest compliance and anti-corruption standards as well as promotes integrity. Siemen's executive pay includes performance criteria related to sustainability metrics.
The above graph compares the representation of women at board levels in the top three companies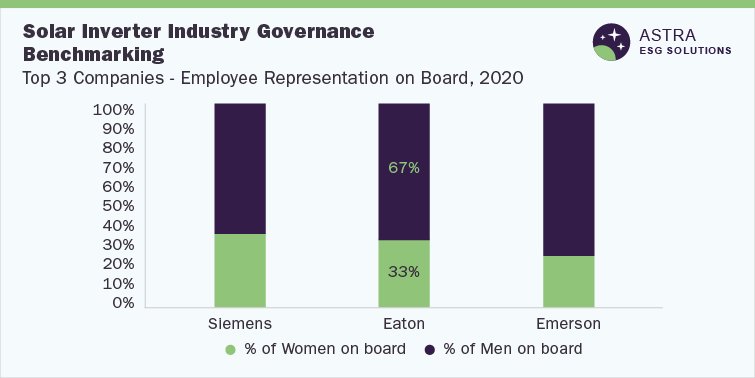 A majority of the board members are independent and the percentage of females on the board at Eaton has increased since 2018. It was declared Corporation of the Year by National Minority Supplier Development Council in 2020. Eaton has also enhanced security systems to prevent any cyber threats but is not ISO 27001 certified.
Country ESG Outlook
The demand for energy is increasing every year, which is driving the need for various renewables, such as solar energy. The increasing need for a steady power supply in harsh climatic conditions or remote locations has led to the enhanced deployment of off-grid solar PV systems, thereby propelling the PV inverter product demand. In addition, favorable government policies and initiatives regarding clean fuel usage are expected to further amplify PV Inverter industry growth. The following section looks into various initiatives around the globe with regard to promoting the solar PV market.
India: Jawaharlal Nehru National Solar Mission (JNNSM) 2010, also known as the Solar Mission, is a part of India's prestigious National Action Plan on Climate Change (NAPCC). The mission is divided into three phases: I (2010–12); II (2013–17); and III (2017–22). In its first phase, Rooftop PV and Small-Scale Generation Program (RPSSGP) was implemented to encourage the development of rooftop as well as ground-mounted solar systems. By 2022, it aims to have 100 GW of solar power capacity installed.
China: China's National Energy Administration (NEA) issued a draught Energy Law (Draft Energy Law) in April 2020 for public feedback, stating that renewable energy development will be prioritized.
Malaysia: Malaysia's Sustainable Energy Development Authority (SEDA) has implemented a number of strategies to increase the use of solar energy and make it one of the principal sources of energy by 2050.SEDA has an objective to produce 21.4 GW (73%) by 2050.
Cumulative installed solar PV capacity worldwide from 2000 to 2020 (in megawatts)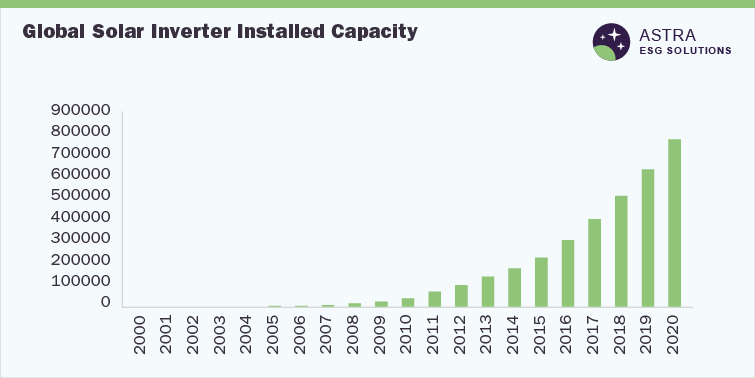 IRENA: An intergovernmental organization International Renewable Energy Agency (IRENA) serves as the principal platform for cooperation to advance the transformation of the global energy system. IRENA promotes the widespread adoption and sustainable use of all forms of renewable energy, including bioenergy, geothermal, hydropower, ocean, and solar & wind energy, in pursuit of sustainable development, energy access, energy security, and low-carbon economic growth & prosperity.
Solar Inverter Market Overview
The global solar inverter market was valued at USD 9.31 billion in 2021 and is predicted to grow at a Compound Annual Growth Rate (CAGR) of 6.2% from 2022 to 2030. The Asia Pacific region is expected to be the largest solar market in the future. Renewable energy deployment has accelerated in recent years, reaching new highs and surpassing yearly conventional power capacity expansions in several locations. China, a significant global competitor, is also the main contributor to the region's solar market's rapid expansion.
The utility segment led the PV inverter market in 2021, with a revenue share of roughly 44.0%. The central and string inverters are the most extensively utilized photovoltaic inverters in the utility sector. The utility business is expanding due to the growing demand for renewable energy, reducing solar power & equipment costs, and increasing government incentives. In 2021, central inverter revenue accounted for about half of total revenue. The inverters are connected to massive arrays on field sites, industrial facilities, and buildings, transforming DC power from all PV panels into AC, acting as a single point of power distribution. String inverters were the second-largest market segment. Commercial and household consumers have been drawn to this sector because of the low initial cost and speedy installation. Micro PV is more appealing for commercial and industrial applications due to the high reliability, efficiency, & performance of module-level electronics.
Solar PV power installations have dominated the renewables business for many years, outperforming all other renewable technologies. The global capacity of installed and grid-connected solar PV electricity reached 480 GW at the end of 2018, an increase of 20% from 2017 (386 GW), indicating a CAGR of approximately 43% since 2000. Solar PV is likely to continue driving the overall growth of renewables in various locations over the next decade, which can be attributed to ample resource availability, high market potential, and cost competitiveness.