Industry Sustainability Outlook
The average ESG disclosure score for the solid state battery industry is between 60% and 70%. Our proprietary Environment, Social, & Corporate Governance (ESG) scoring framework analyzed 65 parameters across ESG, as represented in the methodology section of this document.
Toyota Motor Corporation, Solvay SA, and two more market leaders were part of our research. Three out of four companies we researched scored above the average industry score. However, one of the market leaders needs to focus more on ESG reporting and transparency as it scored well below 60%.
However, we have seen a positive pattern in ESG evaluation among solid state battery industry participants for 5 years. Our research shows that most of the sustainability-related indicators have been made around environmental measurements, which stand at almost ∼ 70%, followed by governance and social components with a score of∼ 60% and ∼ 50%, respectively. Toyota Motor Corporation has been a leader in the sector from an ESG disclosure standpoint with a score of 78% followed by Solvay SA, among others.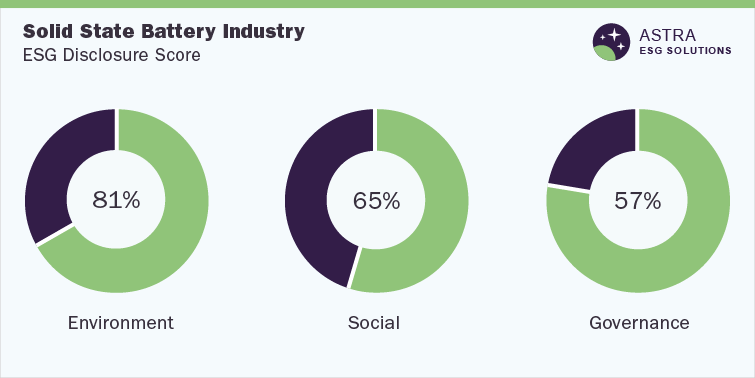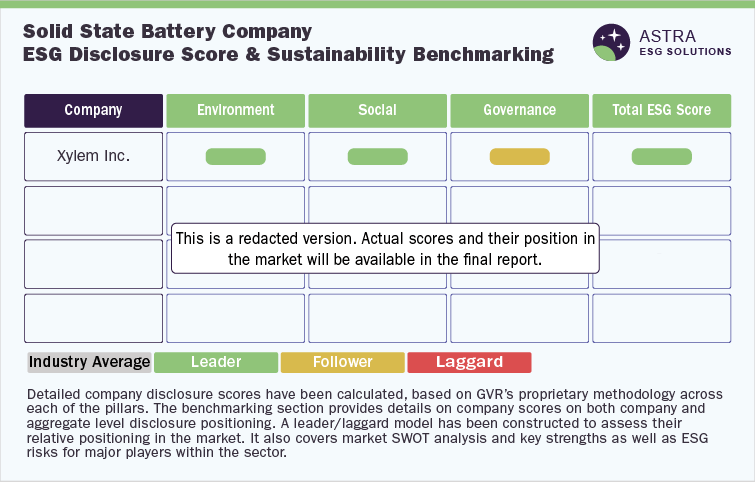 Environmental Assessment
Batteries play an important role in our lives, from providing the initial power needed to start the engines of cars to act as a backup source of electricity in telecommunications, public transportation, and medical procedures. Improperly disposed batteries negatively affect human health and also contribute to water and air pollution, affecting the environment, as they contain strong corrosive acids & chemicals. A solid-state battery, as the name suggests, uses solid electrodes and a solid electrolyte instead of liquid or polymer gel electrolytes found in lithium-ion or lithium polymer batteries. They have many advantages over other battery types. Energy efficiency, compactness, lightweight, and higher running range are some of the key advantages compared to the current lithium-ion batteries. In addition, they also do not pose the risk of explosion or there is a lower risk of battery fire; hence, there is no need to have safety components, which saves more space.
Organizations in the solid state battery industry are constantly involved in research and development to enhance their presence across the globe by completely changing the oil and gas market. This is one of the technologies that have durability and minimum impact on the environment, for example, cobalt is not used in these batteries, resulting in a 50% better carbon footprint than conventional batteries. While considering the alignment principles of sustainability disclosure reports, it was seen that SolvaySA's report aligns with the 11 recommendations of TCFD, along with the GRI, SASB, UNGC, and SDG standards. Moreover, the company has also set a target to reduce the CO2 intensity to 40% by 2025 along with the reduction of GHG emissions globally to 30% by 2030.
Provided below is research on a few of the major organizations under environmental benchmarking, concerning their scope 1 and 2 emissions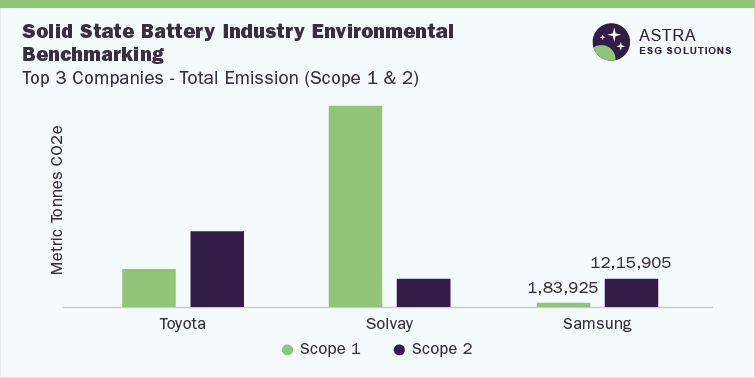 Among the major players in the industry, Toyota Motor Corporation has guaranteed that the overall sustainability performance is under the oversight of its operating officers and executives who work closely with the board of directors to make timely decisions and implement environmental initiatives closer to the customer base. Furthermore, the ISO 14001 certification plays a significant role in ensuring suitable environmental cycles/structures across various districts of affiliations. Our research revealed that, in 2020, all facilities of Toyota Motor Corporation had ISO 14001 certification, while Solvay SA had only 64 sites certified, which is only ∼ 50% of the sites. Moreover, while considering the GHG emissions, it was seen that Samsung stands out to be the lowest GHG emitter among its peers by adopting renewable energy and setting a target to reduce GHG emissions by approx. 30% by 2025 and 50% by 2030.
Social Assessment
Social metrics are an assessment of the risks that a firm may face from both human capital and the community. The variables that are accounted for in this classification include how an organization manages its relations with its workers, financial investors, the communities in which it operates, and the political environment. Within this category, for the solid state battery industry, Samsung SDI has topped among its peers with a score of∼70%. They have a standardized Supplier Code of Conduct which has various rules and regulations inclusive of human rights and diversity. The company has also obtained ISO 45001 certification for Industrial Safety and Health Management System as compared to Toyota Motor Corporation, which has only eight global plants that have acquiredISO 45001 certifications.
Provided below is research on a few of the major organizations under social benchmarking concerning the employee turnover rate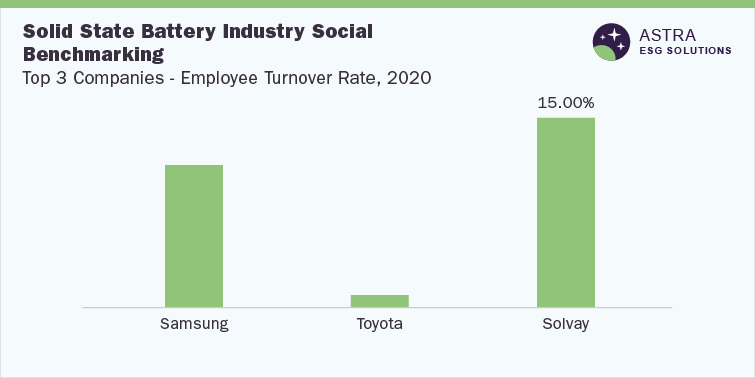 Moreover, since 2014, each Global Business Unit of Solvay SA has run a customer satisfaction survey at least once every 2 years to check its strategic alignment with the trends in the business environment but has not disclosed any satisfaction score, whereas Samsung SDI measures the same through a Customer Satisfaction Index Survey (CSI). Besides, our research showed that most of the organizations had no fatalities for the current fiscal year 2020. This implies that all top three companies are maintaining safety standards. However, an exception can also be seen—Solvay SA—which has the highest employee turnover rate (15.00%).
Governance Assessment
The governance component within ESG evaluation measures factors involved in policy-making, such as board structure, distribution of rules & regulations along with details of the responsibilities among stakeholders, employees, suppliers, and top executives. As per Grand View Research's ESG scoring model, Solvay SA ranks the highest in corporate governance among its competitors, with a score of ∼70%, functioning within the solid state battery industry. The organization has the highest number of independent directors (more than 70% of the board includes independent directors), while the female representation on the board is also seen to be highest with a score of 26.67%. Furthermore, Solvay SA also has a clawback policy in place, which enables it to reclaim Performance Share Units (PSU) for a period of 3 years from the date of the payment with regards to its executives.
With an increase in the cases of cyberattacks, Toyota Motor Corporation established the All Toyota Security Guidelines (ATSG), based on ISO 27001/27002; US National Institute of Standards and Technology (NIST) - Cybersecurity Framework; and Cybersecurity Management Guidelines by the Ministry of Economy, Trade, and Industry, which ensure information security through a multifaceted approach: through organization, human resources, technical security, physical security, and incident/accident response. The organization also has external and internal hotlines integrated into the "Speak up" Hotline, which allows anonymous reporting and is open to third parties, including family members of an interested party.
Provided below is research on a few major organizations under the governance benchmarking concerning their female representation on the board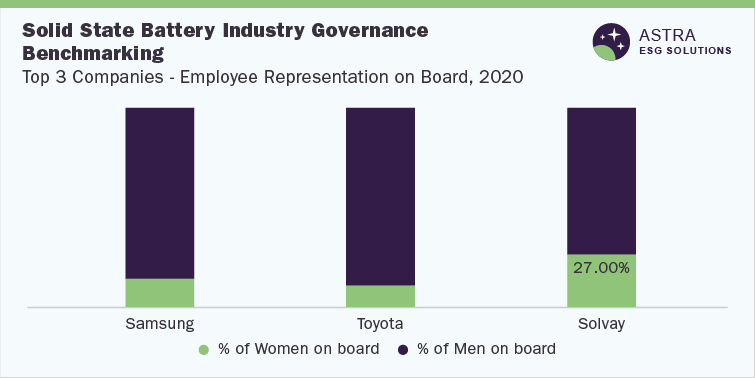 In January 2020, Samsung SDI launched a COVID-19 Task Force to promote a prompt and systemic response to the global pandemic, which was composed of the corporate HR team, the communication team, and the ESH departments at the headquarters. The task force was responsible for establishing standards on business travels, access to crowd facilities, management of employees with symptoms of fever, disease control activities, and training & group activities. Lastly, our research reveals that none of the major organizations have succession planning for CEO/senior executives in place.
Country ESG Outlook
As explained, solid-state batteries offer multiple environmental advantages when compared to liquid-state Lithium-ion Batteries (LIBs). This calls for an assessment of policy initiatives and legislation facing various countries. Many countries and companies are taking initiatives to promote solid-state battery usage and manufacturing. After the signing of the Paris climate agreement by U.S. President Joe Biden, many automotive and battery technology companies have started to substantially invest in this technology. The 20 main distributors of solid-state battery licenses in the U.S. are somewhere in the range of 2010 & 2019, and the number of licenses that were distributed during this time frame, Toyota was the most dynamic in the U.S. for solid-state battery advancements, with 203 licenses distributed, which is 5.8 times higher than the maximum number of licenses issued.
In 2021, Toyota announced the introduction of a revolutionary solid-state battery that can last for a whopping 500 km on a single charge, with full charging capability in just 10 minutes. The other leading automakers such as Ford and BMW have announced to invest USD 130 million in solid-state battery startups. Samsung SDI, Solid Power, Quantumscape, and Toyota have strong expertise in solid-state battery development. Among these, Solid Power is aiming to create a 400 Wh/kg product in 2022. These batteries are expected to store twice as much energy as LIBs, making a strong case for top Electric Vehicle (EV) manufacturers to stay invested in this technology.
Solid State Battery Market Overview
The solid state battery market at a global level was valued at USD 590.9 million in 2020 and is expected to grow at a Compound Annual Growth Rate (CAGR) of 36.0% from 2021 to 2028. Solid-state batteries represent a new generation of battery technology with a high energy density that can effectively compete with LIBs. These batteries now power a wide range of electronic devices in the market. However, their use in Electric vehicles (EVs) is driven by their ability to store more energy, faster charging, and increased safety than liquid LIBs, which can accelerate the shift from current fossil fuel-powered cars. With the rise in demand for EVs due to carbon-free footprints, companies are rapidly developing high-energy-density batteries that can aid transition faster. The Asia Pacific is projected to emerge as the biggest market, representing a 51.2% portion of the international solid-state battery market in 2020. The significant development of the auto industry in China, India, Japan, and South Korea is expected to advance the demand for solid-state batteries. Europe is the second-largest market and is expected to hold its market position followed by North America, driven by the U.S., Mexico, and Canada, representing almost 20.69% in the forecast period.
Similarly, in our research, we have seen the basic development of sustainability metrics among financial investors, which has led the organizations to adopt ESG-related courses of action, activities, targets, and plans to enhance transparency.