Industry Sustainability Outlook
The average ESG disclosure score for the water and wastewater treatment industry is between 60% and 70%. Our proprietary Environment, Social, and Corporate Governance (ESG) scoring framework analyzed 65 parameters across ESG, as represented in the methodology section of this document. Xylem, Inc.; Veolia Environnement S.A..; and five more market leaders were part of our research. Four out of seven companies we researched scored above the average industry score. However, one market leader needs to focus more on ESG reporting and transparency, as it scored below 50%. We have seen a positive trend in ESG disclosure among market players engaged in water and wastewater treatment.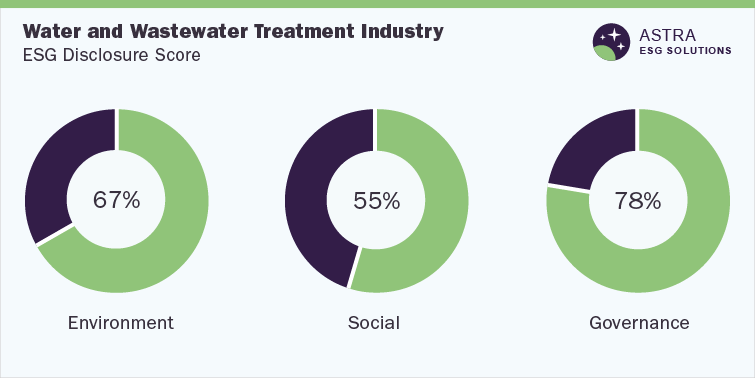 According to our findings, the companies have scored substantially higher in governance, with an average of more than 75%, followed by environmental and social responsibility. In terms of the level of disclosure of ESG factors, Xylem, Inc. is the leader in the sector followed by Veolia Environnement SA and DuPont de Nemours, Inc, respectively.

Environmental Assessment
Wastewater is polluted water that is released majorly from households and manufacturing facilities. Treatment of wastewater helps in reducing pollution and, thus, improving the health of the ecosystem. It also leads to the reduction of harmful elements found in wastewater. Since only 3% of the water available on earth is drinkable, it is important to treat water so that it can be reused many times over. With wastewater treatment, the process is faster and helps provides crystal clear and safe, reusable water. The natural process of treating water has many aspects, and to speed up this process, multiple facilities that help in purifying the water have been designed. Apart from wastewater, water treatment and water technology companies are dedicated to servicing their customers and solving their water-related issues. They are also striving to reduce their carbon footprint by making their operations as eco-friendly as possible. In addition, water treated by facilities helps in eliminating chemically treated water in a sustainable manner.
There are several targets set by the companies, for instance, Xylem, Inc. set a goal to use 100% renewable energy at its facilities by 2025, and it also targets to recycle 100% of its waste water at major facilities by 2025. With regard to its business operations and supply chain, the company has implemented various programs to benefit the environment. These programs include water management practices through water recycling and waste management, which are aimed at reducing the amount of waste sent to landfills or recycling or reusing.
Apart from Xylem, Inc, one of the top three companies in water and wastewater treatment, Ecolab, Inc, ensures that sustainability performance is managed by its board of directors with the support of a Safety Health & Environmental (SHE) Committee composed of at least three members. The company has also set several other goals such as reduction in water impact by 40%, reduction in carbon dioxide by 50%, restoration of greater than 50% of water withdrawals, and, at least, 80% renewable electricity by 2030. While Pentair Plc, another major player in the industry, works to reduce greenhouse gas emissions and aims to achieve carbon neutrality by 2050. On the other hand, ISO 14001 certification plays an important role in ensuring proper environmental processes/systems across organizations. Our study revealed that 56% of Ecolab, Inc sites have ISO 14001 certification, whereas Pentair Plc has only 23% certified sites.
Provided below is a comparison of the top three companies under the environmental benchmarking with regard to their scope 1 and scope 2 emissions: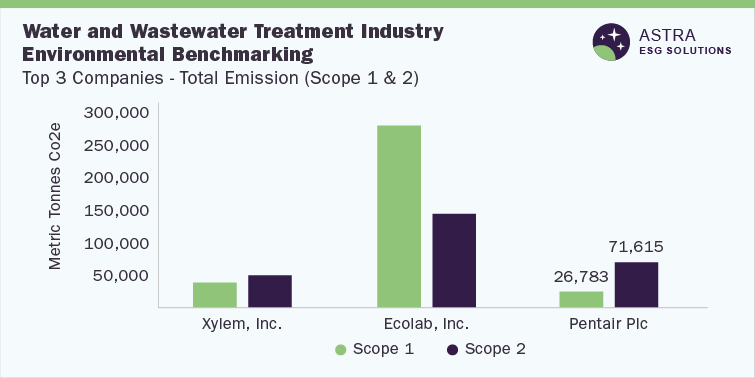 Social Assessment
The social metrics of ESG consider promoting human rights & equality and empowering people by providing them with real choices & opportunities. Furthermore, this category also includes health and safety parameters, such as injury rates, OHSAS certifications, employee engagement programs, training, and community outreach. As one of the top companies in the area of social factors, Xylem scored the highest at around 80%. The company has implemented human rights policies in its operation and has its own Supplier Code of Conduct, which states that all suppliers are expected to respect human rights and work accordingly. In 2020, Xylem, Inc. was recognized in the Human Rights Campaign Equality Index for its efforts.
In the water and wastewater management industry, the health and safety of employees are of utmost importance. Therefore, the majority of companies achieved certification in accordance with OHSAS 18001 safety standards. In addition, our research revealed that the majority of companies in this sector offer comprehensive healthcare plans and programs. These healthcare benefits, along with health insurance and safety training, are proven to promote better employee retention. Ecolab, Inc., one of the top three companies w.r.t. social factors, has disclosed one of the highest turnover rates (12.90%) despite having comprehensive healthcare plans. A year-round employee engagement survey is conducted at Veolia Environnement S.A, another competitor in the water and wastewater treatment market, to increase employee satisfaction and motivation. This results in reduction in the employee turnover rate and increase in company benefits for employees.
Provided below is a comparison of the top three companies under social benchmarking with regard to employee turnover rate: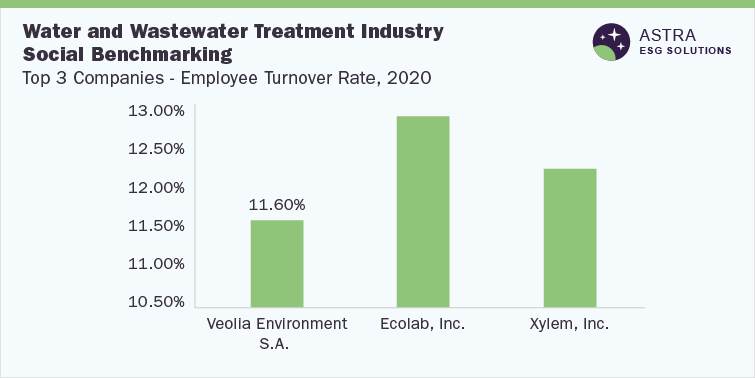 Governance Assessment
The right kind of corporate governance can improve the performance of a business, help it become more stable & productive, and generate new opportunities in the future. Good governance also encourages investor confidence. We have found that companies that rank well below average in good governance characteristics are most vulnerable to mismanagement and less likely to capitalize on opportunities. There are a variety of factors considered under governance factors, including ethics, cyber security, anticorruption, policies & amendments, and board diversity.
Dupont de Nemours, Inc. ranked highest in corporate governance compared to its peers operating within the water and wastewater treatment sector, based on Grand View Research's ESG scoring model. Over 90% of the company's board consists of independent directors, which increases its credibility and governance standards among investors and consumers. The company has a separate Code of Conduct that sets forth its expectations regarding bribery, corruption, conflicts of interest, political contributions, government relations, product stewardship, environment protection & sustainability, human rights, respect for people, transparency, and ethics reporting. In addition, employees and contractors have the option of reporting ethics concerns to management or human resources, or through the DuPont Ethics and Compliance Hotline (DuPont Hotline).
Similarly, Suez SA ranked second under the governance factor, scoring around 80%. Comparing the company to others, it has the highest percentage of female board members, displaying positive diversity and inclusion practices throughout the company. Furthermore, the company has a separate Ethics Charter drafted in 12 languages, which is available for all the employees of the company to adhere to and act accordingly. In addition, the company has put in place its 2020 to 2022 Cybersecurity Roadmap, which would help it secure its data from cyber threats. Even, Veolia Environnement S.A set up an Information Systems Security Organization (ISS, cybersecurity) in 2013, which is headed by the Information Systems Security Officer (ISSO).
Provided below is a comparison of the top three companies under the governance benchmarking with regard to the percentage of independent board members: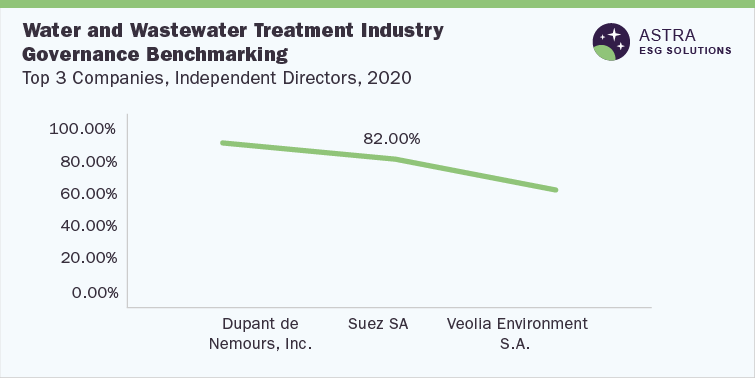 Country ESG Outlook
How wastewater is managed is inextricably linked to safe and abundant water supplies. A large amount of untreated sewage, agricultural runoff, and industrial pollution has degraded water quality and polluted water resources worldwide. As per United Nations World Water Development Report, 2017, global estimates, it is probable that more than 80% of wastewater is released into the environment without adequate treatment.
Wastewater treatment or solution involves reducing the amount of waste released into the environment, which benefits the environment and also reduces water pollution. It helps in making it possible to reuse the same water, which helps lower the use of freshwater from the earth. The ultimate aim with regard to water and wastewater treatment is to reduce water pollution, hence international regulations are also applied in order to standardize the processes. The U.S. EPA sets national standards for drinking water to protect against health risks, considering available technology and cost. A similar Act in New England further defines the implementation of programs and regulations as the topmost priority, wherein the Safe Drinking Water Act (SDWA) regulations need to be followed.
Water Related Technology Patents
As per the PATENTSCOPE database and search strategy combined with IPC, almost 227,365 water treatment technology patents were filed between 1993 and 2016. Traditional treatment (117,974 patents, 51.9% of all water treatment technology patents), biological treatment (40,300 patents, 17.7%), multistage treatment (45,732 patents, 20.1%), sludge treatment (15,237 patents, 6.7%), and other treatments (8122 patents, 3.6%).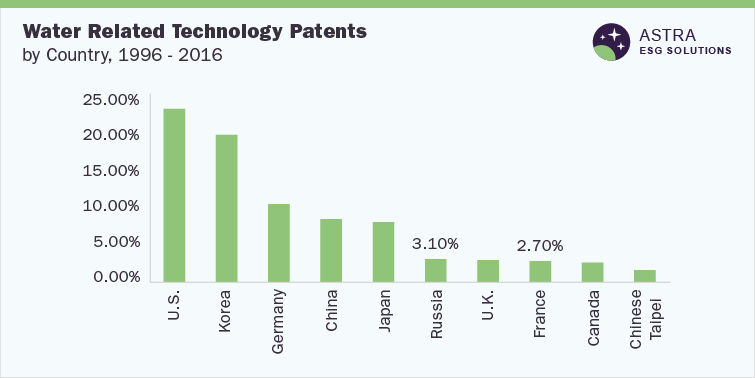 Water and Wastewater Market Overview
In 2021, the global market for water and wastewater treatment equipment was forecasted to be valued at USD 26.2 billion and is projected to reach USD 41.8 billion by 2030, growing at a Compound Annual Growth Rate (CAGR) of 4.2% (2016-2030). The global secondary water and wastewater treatment equipment market size was valued at USD 22.20 billion in 2019 and is expected to grow at a CAGR of 3.9% from 2020 to 2027. Growing demand for wastewater treatment plants coupled with stringent regulations pertaining to wastewater treatment is anticipated to drive market growth. The Asia Pacific led the global market and accounted for a revenue share of 33.9% in 2020. In the long run, the development of more energy-efficient water treatment technologies will benefit the global wastewater treatment equipment market growth. Therefore, the need for better water treatment rates will impel the global wastewater treatment equipment market growth. From 2021 to 2028, the revenue of the market is expected to grow at a CAGR of 4.0% to reach USD 84.12 billion. With industrialization, technological advancements, and a growing number of production units, the demand for fresh and processed water has increased, hence, product penetration in the industrial segment is expected to increase. As far as ESG is concerned, water and wastewater treatment companies are required to report on their policies, programs, targets, and plans related to ESG so as to enhance transparency. Our study shows that they are accountable for the quality and performance of their operations, to benefit the environment and operate sustainably.