Posted On

Mar, 09, 2023
ESG Analysis of the Middle East Region
With more than 1/3rd of the global oil resources located in the Middle East as of 2021, Environment, Social, and Governance (ESG) is becoming an increasingly important factor for businesses in the Middle East as this region strives to improve sustainability and social responsibility. The advancements in Corporate Social Responsibility (CSR) movements which majorly consisted of voluntary efforts by certain government bodies or governing authorities have ramped up the momentum around ESG in the region. Since 2014, the region has implemented governance codes and guidelines for banks, insurance companies, securities companies, capital market authorities, and small and medium enterprises. In the era of sustainability, United Nations Development Goals (UNSDGs) and frameworks like Global Reporting Initiative (GRI) have gradually widened the transformation of CSR to ESG which has encouraged companies in the region to report sustainability indicators. Between 2013 and 2019, the rate of sustainability reporting in the region increased from 25% to 59%.

Significance and Trends in ESG across the Middle East
ESG integration allows stakeholders such as companies, governments, and investors to recognize the importance of sustainability to take a holistic approach towards responsible business practices and minimize possible risks to businesses in the future. Research from 2021 shows that more than 40% of regional investors in the Middle East are interested in adopting innovative and effective ESG investment policies, with nearly 45% of CEOs in the region willing to increase investments in sustainability initiatives in the coming years. Further research in 2022 shows that diversity and equality, safety, and climate change are three key areas of interest in ESG for stakeholders.
---
Let our sustainability consultants help you with your ESG goals. Share your queries and request a call back.
---
The United Nations Conference of Parties (COP), recently hosted in Egypt has enhanced the overall ecosystem around sustainability in the Middle East. Oman, Kuwait, Qatar, and Bahrain have shown significant developments in terms of sustainability. With a strong intent to advance efforts toward environmental sustainability, Bahrain has committed to achieving a net-zero status by 2060. Kuwait is ramping up investments in sustainable living and is keen on reducing its reliance on crude oil. As of 2022, the Kuwait Investment Authority (KIA) has applied ESG standards provided by a global ESG benchmark provider to make its entire investment portfolio sustainable. Qatar also aims to reduce the environmental effects of businesses by targeting a reduction of 25% in greenhouse gas (GHG) emissions by 2030, while Oman is focusing on the development of green hydrogen plants to reduce dependency on oil and gas. In 2021, the national stock exchange of Oman and the Muscat Stock Exchange reported adding a new section for ESG issues to achieve sustainable growth in the capital market.
Industry-level Insights
The Oil & Gas industry and the construction industry are key contributors to economic growth in the Middle East. Considering the environmental and social impacts of operations, the Oil & Gas industry is of particular significance because of its probable adverse impact in terms of carbon emissions, employee safety, and community relationships. Many companies are taking steps to address environment, social, and governance concerns and improve their performance in terms of reducing occupational hazards, respecting human rights, minimizing the negative impact of fossil fuels on the environment, and introduction of renewable energy sources.
Following the Oil & Gas industry, the Construction and Real Estate industry contributes to a large amount of GHG emissions in the country and the expectation of growth in urban population can potentially cause a negative impact in the Middle East, even further. Therefore, governments in the Middle East are now focusing on ensuring sustainability through regulatory guidelines which have established intricate benchmarks for 'green buildings' for promoting sustainable construction and ESG relevant real estate market. On the other hand, ESG favorable construction and real estate industry could provide affordable housing and bring a sense of equality in terms of social inclusion.
---
Check out Astra's portfolio of Sector-Wise ESG Thematic Reports covering 100+ industries
---
The financial services sector can play a crucial role in tackling long-term sustainability challenges faced by various industries in the Middle East through promoting sustainable finance, improving digital financial inclusion, and reducing carbon footprint. By 2030, green investments across key industries in the Gulf Cooperation Council (GCC) such as transportation, construction, and agriculture can increase GDP growth by USD 2 trillion, create 1 million jobs, and promote sustainable infrastructure in the Middle East region. For instance, in 2022, the issuance of green bonds, sustainable bonds, and sukuk issuance (bond-like investments in Islamic finance) reached USD 8 billion and was mainly focused on achieving the "net zero target" across the GCC. The First Abu Dhabi Bank (FAB) in 2021 financed over USD 10 billion in sustainable projects while the Arab Petroleum Investments Corporation (APICORP) raised USD 750 million which was focused on renewable energy use and waste management.
Programs, Policies, and Regulations in ESG across the Middle East
According to a 2022 PWC survey on the challenges for companies in the Middle East to implement ESG, 86% of participant companies reported that a lack of clear guidelines for promoting sustainability in the middle east region was required. To overcome these challenges, initiatives such as the "Net Zero 2050" in the UAE to achieve decarbonization and reduce GHG emissions and Oman has promulgated a New Labor Law for improving labor conditions The Sultanate of Oman has made "National Strategy for Net Zero Transition", which aims to achieve net zero by 2050, by reducing GHG emissions by 7% in 2030 and 54% in 2040.
To protect human rights across various industries, the UAE federal government has set up a Human Rights Institute to track and report human rights violations to the relevant authorities in the private sector and in the government in 2021. Bahrain has issued Law no.4 of 2021, promulgating the Restorative Justice Law for Children and their Protection from maltreatment and exploitation, and providing them physical, emotional, and social care. Further, the country has amended its labor law, through Decree-Law 16/2021, which aimed to reduce the gender pay gap in the country.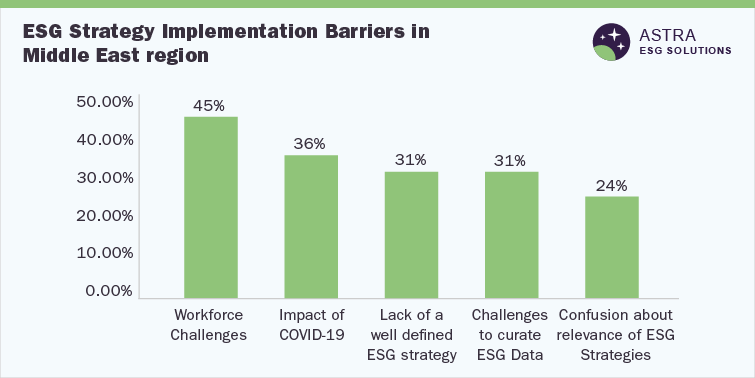 The Middle East faces significant challenges in implementing environment, social, and governance strategies at both the country and the organizational levels. A few of these challenges are a lack of skills among employees in an organization, employee resistance, the Covid-19 Pandemic, lack of ESG strategies in an organization, underdeveloped return of investment measures, and a poor approach to the relevance of ESG for an organization. Lack of skills among workers acts as a roadblock in implementing ESG strategies since underdeveloped labor can increase workplace incidents. Covid-19 has affected the implementation of ESG strategies across various industries in the Middle East. For instance, the construction industry in the Middle East region has faced barriers in terms of workforce management, since the safety and health of the workforce needed significant attention during the pandemic. Collecting and curating ESG data is another major roadblock for many organizations as they do not have a defined ESG strategy to identify and categorize ESG data. All of these can have a significant impact on the ability of organizations to develop a well-defined ESG strategy and improve long-term sustainability in the firm.