Posted On

Nov, 14, 2022
The Environmental Pillar for ESG framework underlines the organization's environmental impact, carbon footprint, resource management, and environmental sustainability. The environmental policies in the corporate sector are becoming a mandate to comply with the broader scale of ESG as the trend of anticipating environmental sustainability in business models has become the new normal.
The COVID-19 crisis has intensely highlighted the need for environmental sustainability with a major focus on reducing the carbon footprint of a business. Besides, the magnitude of the environmental severity, organizations are now fully required to emphasize and disclose the environmental pillar with high transparency. As governments worldwide are in pursuit of maintaining green standards, business organizations are also following a conscious effort toward reducing the environmental impact.
Scope Of Environmental Pillar
The E element in ESG remains fundamental across ESG frameworks. The application of ESG frameworks may differ among organizations and companies but the primary aspect of the environmental pillar remains a universal constant. Companies that have a high environmental score have the advantage of gaining unaltered access to public finance and investments. On the contrary, companies with a low environmental score struggle with regulations and compliances in the long term.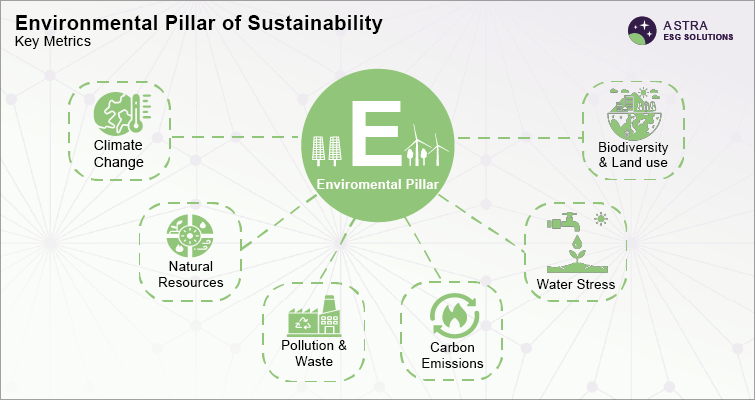 Some Significant Reasons For Companies To Maintain High Environmental Score
Keeps Financial Risks at bay: Companies with a high environmental score are dedicated to maintaining their business reputation and function at a greater capacity. It not only adds to their ESG ratings but also helps them have easy access to business credit and financial investments. In short, the organizational financial health remains in better shape with a high environmental score, thus retaining a longer stakeholder interest.
Attracts Investors: Environmental disclosures have become quintessential for stakeholder engagement. Stakeholders exhibit a high level of interest in investing in those companies that highly comply with environmental policies or have not been flagged for violating environmental norms.
Encourages Transparency in Business Methods: A high environmental score determines the organization's level of transparency. Also, organizational transparency adds more to the business image on the outer side and drives more business on an international scale. Besides, a high score also helps in eliminating the possibility of greenwashing, as the organization exhibits persistence in complying with the environmental norms as prescribed from time to time.
Drives Employee Engagement and Builds Corporate Values: With the growing importance of ESG policies in the corporate sector, it is an undeniable fact that ESG programs and initiatives are responsible to build cultural values within the company. Research indicates that ESG programs have been instrumental in attracting and retaining prospective employees. Particularly, the environmental pillar turns out to be effective as companies are undertaking initiatives to reduce carbon footprints.
For instance, cycling-to-work policies have gained a huge response from young employees. In return, 'save environment' programs relay the importance of having a pollution-free environment within the company premises. Therefore, such initiatives can result in driving a better environmental score.
Results in Conscious Use of Resource Utilization: Resource utilization is one of the key aspects of the environmental pillar to effectively implement the ESG framework. Environmental disclosures should contain a fair representation of the utilization of natural resources such as air, water, land, and electricity. Besides, such disclosures can also help in curtailing the resulting pollution and identifying potential pollutants in order to minimize their real-time impacts. Eventually, this results in creating a high-level conscious effort to use natural resources effectively without disturbing the natural ecosystem.
Direct Efforts to Deal with Ongoing Climate Crisis: Climate crisis has been one of the hot topics and the global corporate sector has been directing its efforts to comply with changes to business methodologies. The Paris Agreement that commenced in 2015 with 196 countries joining the treaty to combat global climate change. The major focus of this agreement is to limit greenhouse gases, curtail carbon emissions by 2050, and control global warming. Highlights from COP 26 which took place in 2021 in the UK, included setting up Climate Ambition Summit that remained influential in creating a platform for business and non-business entities who rallied up for climate change and supported government initiatives to combat the climate crisis.
Additionally, COP 27 which is an ongoing event taking place in Egypt majorly stresses evaluating the measure of the past initiatives to combat climate change and set new directives to achieve climate sustainability.
The Importance Of Environmental Score
An environmental score is the result of an assessment of environmental parameters followed by an organization and the environmental footprint it creates. Moreover, the environment score also minimizes the potential risks associated with the governance factor and increases organizational determination to operate efficiently. This helps investors to anticipate positive affirmation in business relations with the management at the organization, ultimately resulting in creating a better financial impact and positively driving organizational competitiveness.
How Can Astra Help
Astra employs a comprehensive methodology and approach for implementing the mandate measures and complying with the ESG norms through which companies can eliminate greenwashing, mitigate financial risks, improve investor attention, enhance employee engagement, and help achieve climate sustainability. It offers business intelligence & an ESG dashboard that consists most trending impact themes for both organic and inorganic growth, identifying industry-wide sustainability best practices, performance benchmarking, peer & trend analysis, ESG scores at the company-level generated through material ESG indicators, and access to multiple customized ESG thematic reports to aid in the robust analysis and strategic planning. Register for a consultation today!